MarketForce™
More Data. Less Work.
Think insight, think MarketForce.
MarketForce™ is a cloud-based solution that allows sales personnel to perform order entry, inventory monitoring and collect receivables using handheld devices, providing an online real-time ordering process over mobile networks.
MarketForce™ offers an on-demand solution that meets the varied needs of everyone from small businesses to large, global organizations. It is great for sales and distribution-intensive industries such as FMCG and Financial Services, automating the entire field activities of the organization's sales force. It helps to increase efficiency, reduce costs, identify trends and spot opportunities.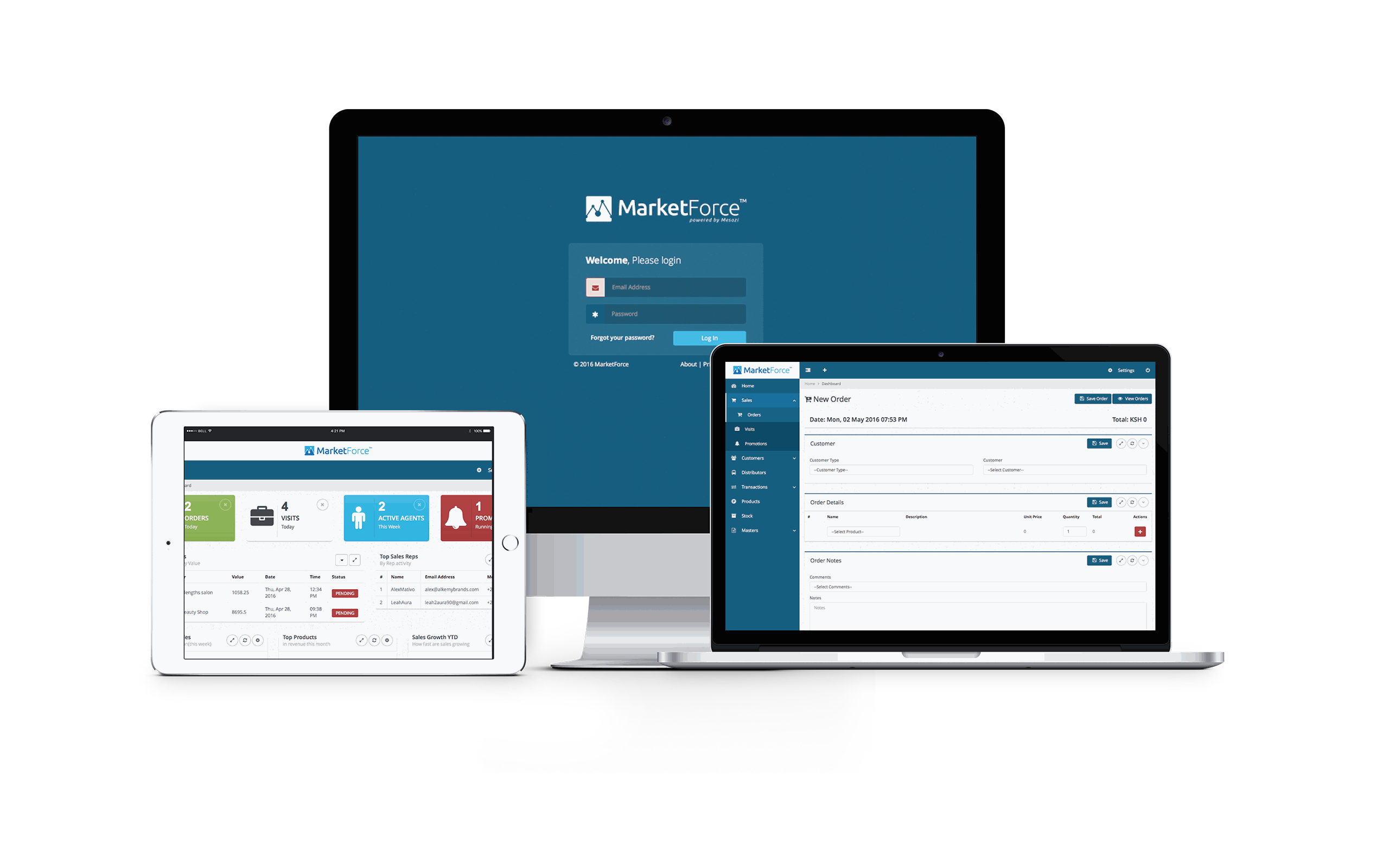 Loved by Reps
Sales reps want solutions that make their jobs easier, not harder. With a fast, functional, simple and intuitive user interface, MarketForce SFA is the one sales solution every rep will love and use.
Critical for Managers
Managers need the right tools
to gain visibility into their sales reps' activities and pipelines. With powerful opportunity management, forecasting, and boundless customization capabilities, sales managers can be con dent they are maximizing team productivity.
Trusted by Executives
Executives need fast, accurate answers to critical business questions. With MarketForce SFA's unique customizable analytics, executives get real-time answers and business insight with a single click.
Feature Rich
We let you focus on what's next for your business.
Order Management
Real time order entry, processing and tracking.

Stock Management
Monitor your stock levels as products move in the market.
Contact & Lead Management
Have a complete view of your customers and leads, including credit limit and terms.
Territory & Route Management

Optimally define, plan and administer sales territories and routes to match your organization.

Reports & Dashboards

Reporting tools to help managers analyze sales pipelines, trends and more.


Sales Forecasting & Analysis
Get a real-time view into your sales teams forecasts and performance.
Customer & Agent Mapping
This GPS feature stores information on all your customers and sales agents.
Merchandizing & Promotions
Track your competitors, promotions and activation activities as they happen.
Integrations & Advanced Features
Get sales data into your accounting software or ERP and generate sales receipts via mobile printers on the go.
Information sharing & Mobility
Stay up to date with critical sales data wherever you go on your mobile devices.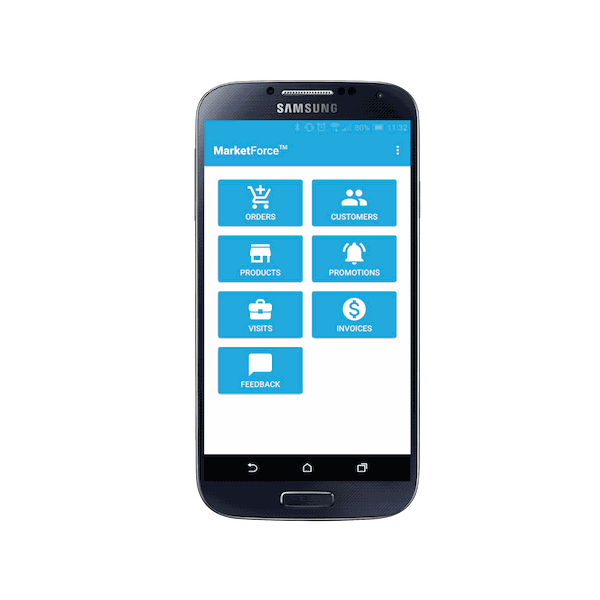 Some Benefits
Optimization

By removing the paperwork burden, you will experience less administration costs in paperwork such as order/collection entry. The solution also greatly reduces the manpower required to manage, consolidate and generate reports for management and analysis.
Visibility
MarketForce gives "last mile visibility" of the sales channels in real time. Management is able to view information as it comes in and make decisions based on it.

Data Security
Documents and information stored in MarketForce are protected from unauthorized access by stringent security requirements. Backups provide vital records and disaster recovery protections. A
udit trails of access and activity are also stored.
Why use MarketForce? FAQs

Why use MarketForce™?
Work on one platform where everything works together. Humans aren't perfect, so you cannot expect sales agents to remember every interaction, order, deadline, or appointment with potential customers. Most businesses are unable to forecast their sales, hence monitor future cash flow and intelligently act on it. We give your business an unfair edge.

How is MarketForce different™?
MarketForce™ is a cloud-based application. It is designed to help your sales-people sell smarter and faster by centralizing customer information, logging their interactions with your company, and automating many of the tasks salespeople do every day. This means they'll spend less time on administration and more time closing deals. For sales managers, MarketForce™ gives real-time visibility into their team's activities, so forecasting sales with confidence is easy. Best of all, MarketForce™ is easy to use and customizable to the way your salespeople work.

Is my business too small to use MarketForce™?
MarketForce™ is a cloud-based, software-as-a-service (SaaS) model, so the software scales easily to accommodate every business size from sole proprietorships to global enterprises. The benefits and advantages of MarketForce™ (see above) apply equally to all businesses regardless of size.

How secure is my data on MarketForce™?
MarketForce™ is built on a robust and flexible security architecture. The platform provides security and control over everything from user and client authentication through administrative permissions to the data access and sharing model. MarketForce™ protects your organization's data from all other customer data by using a unique identifier that restricts access to your data at every level from anyone outside of your company — including us. It also ensures user authentication (both delegated and SAML) combined with network-level security by IP address, session restrictions, and audit trails provides control and visibility into what users are doing in the system and their field history.

How long is the MarketForce™ setup process?
The time it takes to configure MarketForce™ differs depending on your use case, yet compared to the time it takes to install, maintain, and upgrade software on individual machines across an entire organization, setup is a breeze. And for less complicated Sales Cloud configurations, you can be up and running in a matter of minutes. More so, you don't have to be a Software or MarketForce™ expert to get started — we are here to guide you to get you up to speed fast. You can get in touch with us by emailing info@mesozi.com to help you set up and customize a new organization.